Developers in Fishermans Bend face up to another nine months of individual assessments for any planning permits or land transactions, as long-awaited rules about infrastructure contributions holding up Australia's largest urban renewal project limp towards finalisation.
While the state government set broad planning rules for the 450-hectare site on Melbourne's southern edge in October, developments remain hamstrung by the failure to clarify the key Infrastructure Contributions Plan that will determine how much developers must pay to help fund social and physical infrastructure in the precinct.
Paul Byrne, the Fishermans Bend Taskforce general manager, on Wednesday said the plan would be completed this year but gave no further details.
"We're working through with the minister on the most appropriate timing and process through that," Mr Byrne told The Australian Financial Review at the sod turning of a 94-unit residential project by developer Spec Property.
"We certainly will have that completed this year."
It's a difficult process, because it involves pricing every piece of land and infrastructure required to deliver on the precinct framework plan, which envisages 80,000 people living in an area that will transform over decades from industrial to residential. But the lack of certainty prevents developers from submitting planning applications or trading land.
"There is a degree of certainty delivered through the latest planning scheme amendment," said Colliers International industrial director Alysia Reilly.
More hurdles
"But there's a big question mark around developer contributions – no one has any idea if they're going to double from what the current developer contribution is or triple. You just don't know at this point."
Spec director Simon Abdelmalak said his company had paid a $2.5 million developer contribution on the Lilix project. The project with a construction cost of $30 million is 85 per cent sold.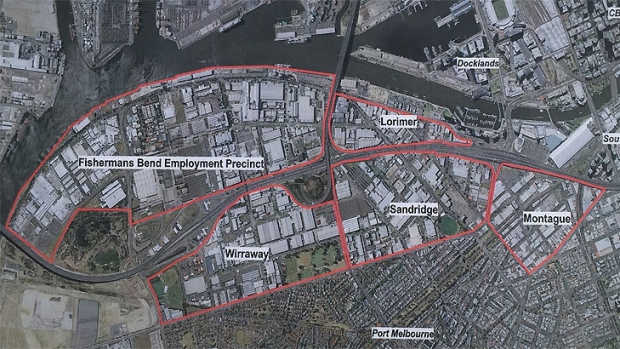 Infrastructure contributions aren't the only hurdle for developers. The development of detailed precinct plans for the five precincts into which the site is subdivided are yet to be completed.
"The first engagement for the first four – which is the capital city zoned precincts – we're anticipating in the next couple of months we'll be doing the first phase of the engagement, with land owners," Mr Byrne said.
He did not say whether those detailed plans would be in place by year end.
"There are many steps through but as I said, we're targeting for this year," Mr Byrne said.
The infrastructure levy and planning delays are the latest hurdle in the politically fraught and tortuous urban renewal area that was controversially rezoned for high-rise development overnight in 2012 by former Liberal planning minister Matthew Guy
Last year Planning Minister Richard Wynne froze 26 project applicationsplanned for Melbourne's Fishermans Bend pending the development of new permanent planning controls, despite previously having said applications would be assessed according to interim controls.
Mr Byrne said the lack of certainty about infrastructure levies would not stop people trading land, because they could apply for assessments in the same way as the 26 called-in projects.
"If there is a particular proposal or proposals that people say 'Ii is important and it's a priority that it be considered', then there is also that possibility to have that go through the same process as the 26 called-ins," he said.
Developers could also take "signals" on infrastructure levies from projects such as Lilix, which had paid $2.5 million in infrastructure contributions, but Mr Byrne agreed there was no clear process with a level playing field in place.
"We're getting that level playing field through the ICP that we're working on," he said.
Mr Abdelmalak said the project had sold at an average rate of $9600 per square metre across the whole building. The privately owned developer engaged Element Five for the construction, which was likely to take 16 months, he said.